Your present plans are going to succeed meaning that you will be able to achieve whatever it is that you want.
Tricia Kandik and I met a few months ago at the inaugural SmartUps Pubtalk in Eugene, Oregon. I was impressed by her excitement and passion for her company and entrepreneurship in general right from the start of our discussion. She'd just picked up her first set of business cards since her company was so young.
I'm really pleased to tell the blog readers about Tricia's company.
Chelle: So, figure out what you're going to do. Is this your first time starting a business?
Tricia: Before coming to Eugene, I had a dogwalking/petsitting company in Washington, D.C. for five years. So I knew I liked running my own company and could manage the ups and downs that come with it.
Friends had been encouraging me for years that I should think about cleaning and organizing as a paid job, calling it my "passion." True, I spend a lot of my free time cleaning and arranging my own house, and I love it. Finally, one acquaintance "dared" me to do it, stating she would use my eco-friendly house cleaning services and that she had many other friends who would become customers as well.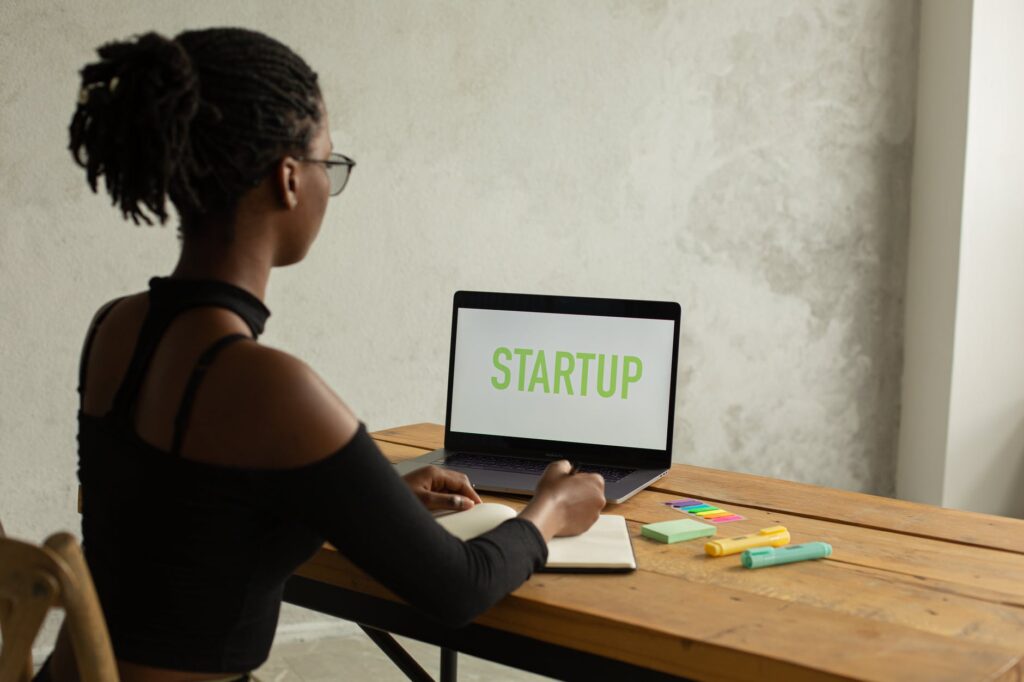 After a few months of fairly consistent labor, I decided that, although gratifying, housecleaning was too lonely and physically taxing for me to perform full-time. I reduced the number of customers I worked with and began gathering friends. I registered New Leaf Organizing with the State of Oregon after many months of practice and began accepting "real" customers.
My technique of action is straightforward. First, I assist the customer in deciding where to begin. Sometimes this is the place that causes the client the most pain, and other times it's best to start with a simple space, such as the kitchen, where emotions are less likely to run hot. Then I figure out what works and what doesn't in the space, as well as how the customer sees it after it's arranged.
Then we get down to business. I assist the customer with decluttering the area and stacking everything in a separate room for sorting. While I clean the area using environmentally safe products, the customer goes through the items, categorizing them into categories such as goodwill, friends/family, return to rightful owner, repair, and keep. It's amazing how much ends up in the Goodwill pile!
Then we plan how to return the keepers (everything the customer uses and/or likes) in a visually appealing and readily accessible manner. We also talk about methods for keeping order and avoiding anarchy from re-emerging. Finally, I load as much of the Goodwill pile as I can into my vehicle and drive away, allowing the client to enjoy her clean, clutter-free environment.
For a variety of reasons, organizing appeals to me. I'm a highly organized person, and it gives me great pleasure to transform a room (or a desk, or a closet) from a disorganized mess to a useful, efficient place. I like working with individuals one-on-one, and it's gratifying to see the change that occurs not just in the room, but also in the client. There's a little ego boost in it, too, since I've been dubbed a "miracle worker" and a "angel of God."
Chelle: After a job well done, it must be wonderful to hear. Everyone should be informed they're a miracle worker at the end of the day! Could you tell us what has been the most rewarding aspect of your trip so far?
Tricia: Over the last eight months, I've learnt and developed so much. I've had a lot of fun meeting new people, both clients and colleagues. Having my own company has given me access to a whole new world!
I've also picked up a few amusing (and real!) anecdotes: While cleaning up a client's home office, we discovered a $50 banknote. When I told my next customer about it, he chuckled and said, "That isn't going to happen here!" I did, however, come find a $50 note some hours later. I believe he mistook me for the planter! The moral of the tale is that organization may occasionally pay for itself.
As a Professional Organizer, I am a firm believer in cleaning away the old to create room for new things in your life. So I was following my own advise when I came upon a fortune –you know, the little slip of paper that comes with a fortune cookie?– I'd put it up on my refrigerator a few years ago. I concluded that I'd had enough of it and that it was time to let go of its message.
That night, I went out for Chinese (something I rarely seldom do), and the bill arrived with the customary cookie. My fortune read, "Your current goals will succeed." So, how's that for motivation? Not to add that it perfectly demonstrates my argument about getting rid of the old!
Chelle: What's the greatest piece of advise you've had since beginning your company, and something you'd tell anybody who wanted to do what you did?
Tricia: It's easy to get isolated as an entrepreneur and lose motivation. Lane Microbusiness was fortunate to connect with me early in my venture phase, and they have been there for me ever since, offering courses, one-on-one coaching, peer networking, and a wealth of advice and support.
The Women's Business Network, as well as the Springfield and Eugene Chambers of Commerce, are among the many networking organizations in town. Get out there and make new friends! Networking increases your visibility, may lead to customers, keeps you motivated, and keeps you in good company. Everyone (even competitors!) will surprise you with how kind and helpful they can be.
Chelle: What marketing initiatives have you taken to get traction in the community or differentiate yourself from your competitors?
Tricia: Marketing, oh marketing, oh marketing, oh marketing, o If you have any suggestions, please share them with me!
Surprisingly, the majority of my business has come from a craigslist ad that I put every other day or so in the household area. Once I find a graphic/web designer, I want to go a bit fancier with some flyers and a website. And networking is something I'd want to do more of if I could only find the time!